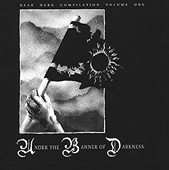 Click picture to view in larger size!
INFO:
Title: Under The Banner Of Darkness Vol. 1.
Format: CD.
Label: Near Dark Productions.
Catalogue #: NDP007.
Recorded: January 27-29, 1997 at Los Angered Recording, Gothenburg.
Producer: Anders "Andy LaRocque" Allhage & Prophanity.
Engineerer: Anders "Andy LaRocque" Allhage.
Released: Autumn 1998.
Line-Up: Mathias "Farbaute" Järrebring - vocals, Nicklas Magnusson - lead/solo guitars, Christer "Grendel" Olsson - lead guitars, Robert Lindmark - bass & Anders "Wouthan" Malmström - drums.
Tracks: A MIND CONFUSED-Nightheaven / MIDNIGHT SUN-Helvetistä / WITHOUT GRIEF-Deflower / AZURE-The Voice Of The Forlorn Hobbit / CRYPTIC ART-From Lies Departed / PANTHEON-Battlestorm / FUNERAL MIST-Bringer Of Terror / NEPHENZY-Enchanted Bliss / DEFLESHED-Walking The Moons Of Mars / PROPHANITY-The Battleroar / CROMLECH-My Entombment In The Desolate Shade Of Bereavement / ABSURDUM-I Bleed / SORHIN-I Det Glimrande Mörkrets Djup / BLOT MINE-Off To War & ENSAMBLE NOCTURNE-Bleeding Eyes.
Comments: The PROPHANITY-track was taken from the "The Battleroar"-tape.