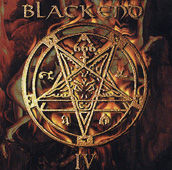 Click picture to view in larger size!
INFO:
Title: Blackend Vol. 4.
Format: Double CD.
Label: Blackend.
Catalogue #: BLACK014DCD.
Recorded: January 12 - February 5, 1998 at Los Angered Recording, Gothenburg.
Producer: Anders "Andy LaRocque" Allhage & Prophanity.
Engineerer: Anders "Andy LaRocque" Allhage & Kjell Börve.
Released: Spring 1999.
Line-Up: Mathias "Farbaute" Järrebring - vocals, Nicklas Magnusson - lead/solo/acoustic guitars, Christer "Grendel" Olsson - lead guitars, Robert Lindmark - bass & Anders "Wouthan" Malmström - drums.
Tracks: WITCHERY-Witchery / MYRKSKOG-A Poignant Scenario Of Death / USURPER-Dismal Wings Of Terror / HECATE ENTHRONED-Thy Sorrow Bequeathed / PRIMORDIAL-Autumns Ablaze / THORNS-The Discipline Of Earth / EMPEROR-Decrystallizing Reason / PROPHANITY-Awaiting Your Valkyries Arrival / ODIUM-Towards The Forest / MISFORTUNE-The Prophecy / ASHES-Son Of Mourning / OPETH-The Amen Corner / LIMBONIC ART-A Demonoid Virtue / ENSLAVED-In Chains Until Ragnarok / MYRKSKOG-A Macabre Fanfare To The Devil / BEHEMOTH-The Past Is Like A Funeral / PECCATUM-I Breathe Without Access To Air / DIABOLICAL MASQUERADE-Riders On The Bonez / DARKWOODS MY BETROTHED-Inside The Circle Of Stones / THY SERPENT-Circle Of Pain / WITCHERY-Awaiting The Exorcist / CARPATHIAN FOREST-Death Triumphant / OPETH-Demon Of The Fall / ANCIENT RITES-Fatherland.
Comments: The PROPHANITY-tracks was taken from the "Stronger Than Steel"-album.