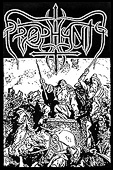 Click picture to view in larger size!
INFO:
Title: Demo #1 -94.
Format: MC.
Label: None.
Catalogue #: None.
Recorded: April 9, 1994 with a 4-track portable recorder.
Producer: Prophanity.
Engineerer: Johan Andreasson & Prophanity.
Released: April 1994.
Line-Up: Christer "Grendel" Olsson - vocals/guitars, Mathias "Farbaute" Järrebring - bass & Anders "Wouthan" Malmström - drums.
Tracks: Intro (Music:Olsson) / Träta Fienders Andar (Music:Olsson/Lyrics:Olsson) / Sunless Domain (Music:Olsson, Blomberg/Lyrics:Järrebring) & Behind The Horns (Music:Olsson, Blomberg/Lyrics:Olsson).
Comments: Limited in 400 numbered copies.