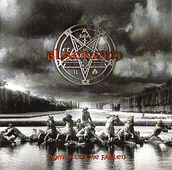 Click picture to view in larger size!
INFO:
Title: Hymns To The Fallen.
Format: CD.
Label: Blackend.
Catalogue #: BLACK013CD.
Recorded: January 12 - February 5, 1998.
Producer: Anders "Andy LaRocque" Allhage & Prophanity.
Engineerer: Anders "Andy LaRocque" Allhage & Kjell Börve.
Released: May 1998.
Line-Up: Mathias "Farbaute" Järrebring - vocals, Nicklas Magnusson - lead/solo/acoustic guitars, Christer "Grendel" Olsson - lead guitars, Robert Lindmark - bass & Anders "Wouthan" Malmström - drums.
Tracks: HECATE ENTHRONED-Thy Sorrow Bequeathed/The Danse Macabre / ENTHRONED-The Ultimate Horde Fights/By Dark Glorious Thoughts / PROPHANITY-Walking Through Fire/...To Hangatyr / AMSVARTNER-Underneath The Thousand Years Gate & AMDUSCIAS-The Dragon Domination.
Comments: The PROPHANITY-tracks was taken from the "Stronger Than Steel"-album.